Shutterstock
Blessing Health System issued the following announcement on Nov. 26.
Thirteen hours on your feet wearing a protective lead vest sounds a bit like torture.
To Candi Ludwig, it's a bit like heaven. It's something she has to do occasionally to help people in their time of greatest need, as a weekend surgical technologist at Blessing Hospital.
"On the weekend we are dealing with mostly traumas," Candi said "I love my job because you never know what is going to happen next and everybody I help is someone's family. I would not trade my job for anything."
But no longer being able to do the job she loved was a possibility earlier this year when back pain crippled Candi.
"The job is demanding," she said. "Between it, and responsibilities outside of work, I just figured I had pulled some muscles."
But when the pain reached a point that she could no longer walk, Candi needed help.
After a visit to her primary care provider's office, Candi was immediately hospitalized under the care of Blessing Physician Services neurosurgeon John Olson, MD, PhD. Dr. Olson is certified by the American Board of Neurological Surgery. He earned his medical degree, doctoral degree and completed residency at the University of Kansas Medical School.
Because Candi's MRI showed no reason to immediately perform surgery, Dr. Olson and Candi agreed to approach her condition through pain management.
That approach worked well enough for Candi to be able to walk for short distances and be released from the hospital after five days to begin outpatient physical therapy.
But within four weeks, Candi was again unable to walk.
"I was not willing to give up my work," she stated.
At that point, Dr. Olson recommended surgery.
"That's what I like about Dr. Olson," Candi observed. "He tried outpatient treatment options before recommending surgery. He wasn't rushing to the operating room."
Candi suffered from spinal stenosis, a disease caused by arthritis in the spinal column compressing the spinal cord. Dr. Olson performed a laminectomy, a procedure that widens the spinal canal to create more room for spinal nerves.
"When I woke up after surgery, the pain was gone," she vividly recalled.
After a few weeks of physical therapy Candi was back in the operating room at Blessing Hospital, 10 weeks after crippling pain threatened to steal the job she loved.
"I have not had any pain since," she said.
For more information on spine care at Blessing, go to blessingheath.org/neurosurgery.
Original source can be found here.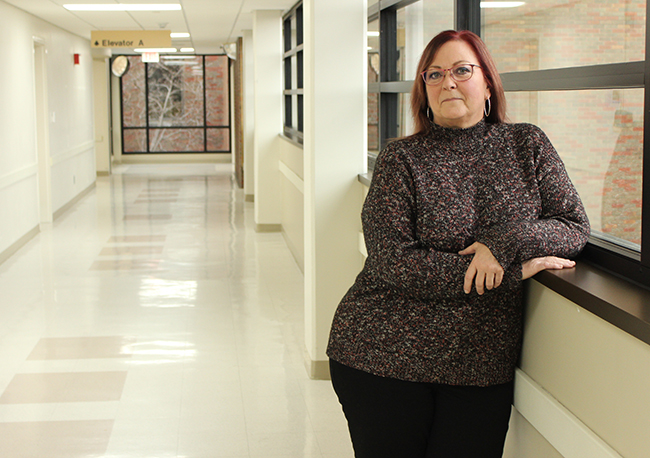 Source: Blessing Health System